"Hello boys and girls. It's that time again where we delve into our electronic postbag and look at all these nice pictures you've been sending us....."
First up is Ian Crockers Westfield Seight. Ian says he's "Giving it some stick" but advises against "trying such things at home - especially not in the garage"
The vital statistics for this 4 wheeled beauty are 3.5 Litres, 180 BHP into a 5 speed box and 3.9 diff on 195/50/15s size shoes. This 1991 model boasts a weight of 1466lbs and can achieve a standing 1/4 in 14.4 seconds to 100 MPH. Interests include sprints and hillclimbs.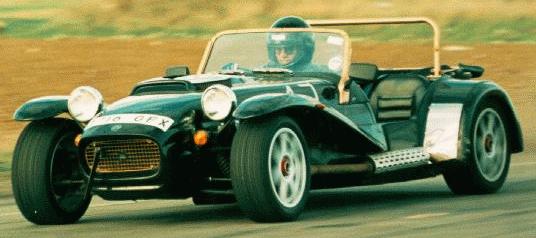 Here's a nice green car belonging to Steve Foster and a shiny aluminium/yellow one belonging to autosol junkie Gunnar! Both cars are fully stripped out (obviously some strange Swedish custom?) 1700 live axled cars built in 1987. Revised FIA rollbars (good idea) and a straight cut box are on their way....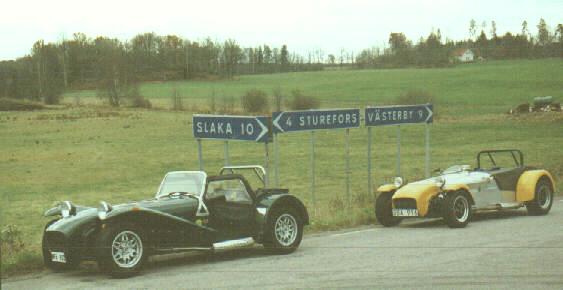 Now this is a wizzy racing car thing which Craig Strawb built to scare small woman and children.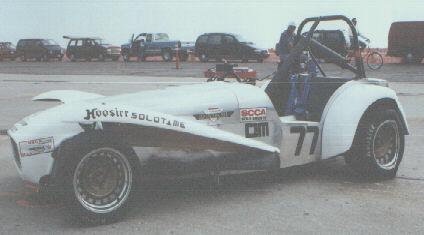 Craig's especially proud of the cars big, bad exhaust system which he uses when driving around graveyards to wake the living dead.....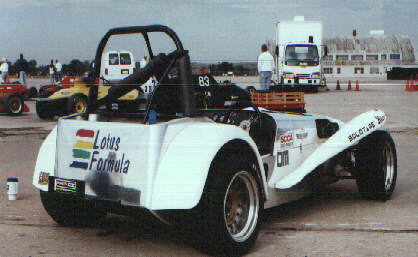 It's back to the 70's for this one....The last 7 produced by Lotus - the Series 4. Don flared trousers and kipper tie whilst driving for that authentic S4 experience....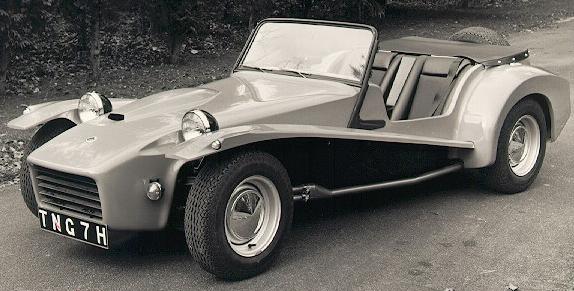 Here's another one giving it some stick - Matt Deakin in his 1700 DeDion Caterham running on 13" Yoko A008R's. This piccy was taken at the Lurcy Levis track in France

And lastly from Dan Remmers is a picture of this rather nice series 1 spotted exposing its innards at the Summat Point Raceway, West Virginia. I could say they don't make them like they used to....but ,then, they do!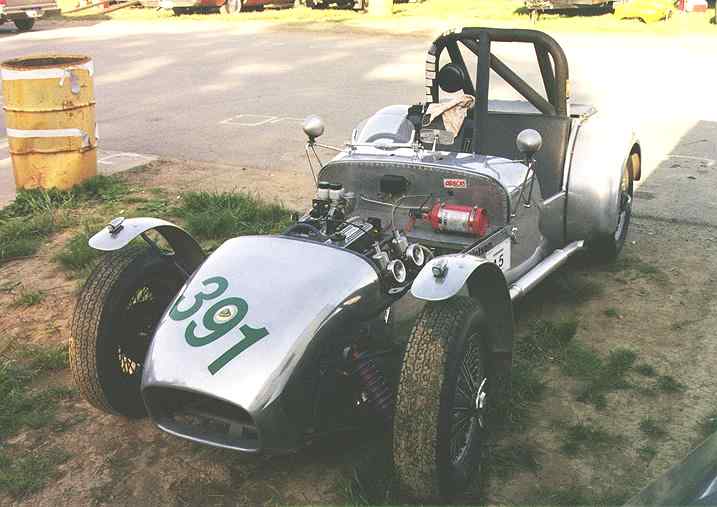 Well thats all for the moment children. Remember - You can meet all these fabulous cars and their owners right now on the 7's Mailing list. Keep those pictures rolling in and we'll be back....