---

Saturday, July 3rd. Throughout the night we'd suffered torrential thunder and rain storms and the sky looked anything but bright. "Sod it, I'm going" was the thought running through my mind and, so, before I had time to reconsider I loaded myself into the 7 and headed off. With experienced List Gatheree, Aideen, leading the way, the Oxford services were reached in good time but not without first driving the car through some horse sh%t which cooked itself on the exhaust producing an interesting smell for the majority of the remaining journey.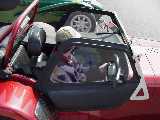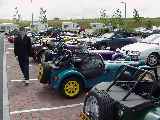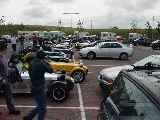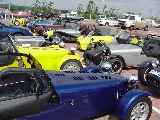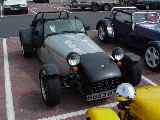 Upon arrival several cars were already on show and the usual tyre kicking was well underway. The next fifteen minutes saw the arrival of several more cars including a certain DVA'd K series powered car; a one careful owner dayglo superlight and the Andrews cossie-hood.
The star of the day was Johnty's recently completed Super-douper K series.....

....And then we retired to partake of morning tea and burgers.....

"Now just follow me...." uttered Peter Carmichael......

Above is a picture of Stephen Lake's nice Pinto installation to pass the time we spent trying to find the pub after losing the convoy!!! (We did have a nice chat with a fellow sevener at a local service station - If you've now found us on the web - Hello!)

Tales were told, drink was drunk, more tales were told, more drink was drunk, revs were raised and we trotted off home.

Thanks to everyone who attended - I hope it was a worthwhile event? Several people commented it was nice to have a day out free of organisational committees, club politics, car exclusivity and general petty bickering -

Let's do it again, soon.

Pictures are thanks to Peter "digicam"Duce who even managed to take an arty one of my ugly airfilter!

28334 hits since May 11, 2003