Marek Niemand's 'Volvo' 7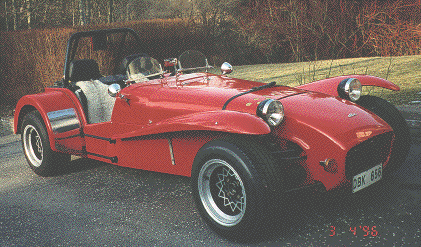 Hello everybody.
Here I am, and hope not to be thrown out after you have read description of my car.
So, here it comes:
I own a Lotus Seven SIII REPLICA. That car is NOT one of the replicas you could find around out there. This one is one of seven existing, built by experts, all of us development engineers of Volvo Car Corporation.
It all started when one of the guys was about to renovate his original Seven. Since it already was appart, a thought of duplicating it was born. His car was measured, a rig to weld the frame was constructed and seven frames were built.We even made copies of all wings and nose cone.(I use original Caterham stuff)
The cars were equiped with different drivelines. Two used Volvo, one Opel, two Ford and two Alfa Romeo.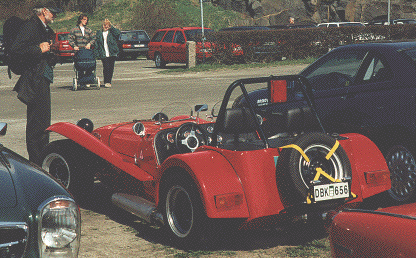 Mine has Alfetta 1.8l, 122bhp engine, Volvo flywheel and clutch, Alfa Romeo Bertone 5 speed gearbox and also a Bertone stiff rear Axle which has been modified to become a WAT-link.
Wheels are 205/65-13 Firehawk on 8" Allycat rings.The car is painted in Ferrari-red. No weather geer, since it never rains in Sweden. (At least never when I take a drive).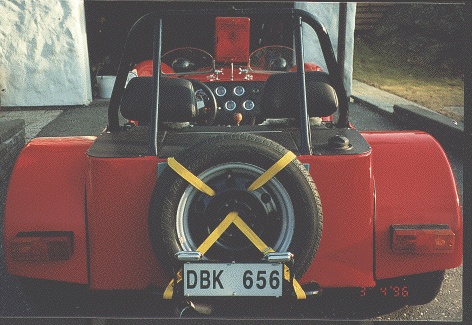 Only a very well trained eye will spot the difference from original Seven.
The car is frequently used in sprint races (slalom) and doing very well. At least better than Porsches, Marcoses and others. I have only taken a beeting from Seven JPS (250bhp) and a sister car (build at the same time) with Ford engine(135 bhp).
So, as You all see: There are some sportscars being build by Volvo engineers,but in free time only.
Best regards. Marek_Niemand Marek_Niemand@vtc.volvo.se
18 December 96 - Thanks to BenH for Page Base!